Our Staff
Staff Photos and Bios
Scott Cox began his tenure as Senior Minister at Speedway Christian Church (Disciples of Christ) on February 4, 2013. He came to Speedway after a seventeen year ministry at First Christian Church (Disciples of Christ), Georgetown, KY. Scott received his M.Div. degree from Southern Seminary in Louisville, KY and his D.Min. Degree from Lexington Theological Seminary in Lexington, KY. He is married to Callie Smith, who is also an ordained Disciples of Christ clergy person. Scott has two adult daughters.
Marge Graham joined the staff at Speedway in January of 2008. She comes to the position of Minister of Music with over 35 years of church music experience, serving in Christian (Disciples of Christ) congregations in Missouri, Indiana and Ohio. She most recently was the Director of Music at First Presbyterian Church in Lee's Summit, MO. Marge is a graduate of Phillips University. She enjoys directing church choirs of all ages and instrumental groups, as well. Besides the church, her other passion in life are her 3 grown daughters and her 6 grandchildren.
Wilma Heller is the Business Manager for Speedway Christian Church.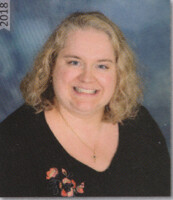 Holly Polites is Church Secretary for Speedway Christian Church.
Evan Cogswell is a second year doctoral student at the Jacobs School of Music at Indiana University. Prior to attending IU, Evan received his Master's of Music in organ from the Yale School of Music and Institute of Sacred Music. Evan served for eleven years as the assistant organist at St. Augustine's and St. Paul's Roman Catholic Churches in Glastonbury, CT.
Amy is Director of Opportunity Day. She is married to Jason and they have three children, ages 9, 7, and 5 who all went through the Opportunity Day program. Amy actually attended the program herself as a child. She graduated from Miami (Ohio) University with a Bachelor's degree in elementary education. Amy has been a member of Speedway Christian Church her whole life. In her free time, Amy enjoys watching her kids play sports, exercising, and reading.