Opportunity Day Teachers
Stacey Williams
Stacey and her husband Dave have 3 children: Kolby, 26, Justin, 24, and Delany, 17. All three children went through the Opportunity Day preschool program. Stacey has been a teacher at Opportunity Day for 23 years and loves working in the pre-kindergarten classroom. When not in preschool, Stacey loves photography, gardening and looking for antiques.
Lisa Mosier
Lisa has been an Opportunity Day teacher since 2000 in the two-year old classroom and she has been a member of Speedway Christian Church since 1992 where she is a service leader. Lisa is married and has two grown children, a son and daughter. In her spare time Lisa likes to read (especially Nicholas Sparks and Jodi Picoult books), go shopping with her daughter, eat out and spend time with her friends and family. She also likes to listen to music and going to concerts. She has two dogs that she loves to take for walks and snuggle with.
Holly Polites
Holly discovered the merits of Opportunity Day when she enrolled her two sons, Todd and Benjamin, in the program. She first started as a teacher subbing in all of the different classrooms, but she came on full-time once both of her kids were in elementary school. Now she loves teaching in the two-year-old classroom. Holly especially enjoys crocheting, running her own home business, reading, sewing, playing Legos with her boys, and watching movies with her husband, Mike, while cuddling with her dog, Indy, and two cats, Georgia and Peaches. God is good!
Jarin Gonzales
This is Jarin's third year with Opportunity Day. She previously taught elementary school in Avon for 10 years. Jarin is married to Adam and they have a daughter named Jensen (5), and a dog named Pepper. In her spare time, Jarin enjoys traveling, reading, and spending time with friends and family.
Karin Greenwalt
Karin started substituting in the Opportunity Day Program in 2013 and joined the preschool staff for the 2014-2015 school year. She is thrilled to be teaching in the 3s class. Karin and her husband Jay have 3 sons and 3 grandchildren. She enjoys spending time with friends and family, especially her grandbabies, and loves to shop, cook, travel and take care of her fur-babies.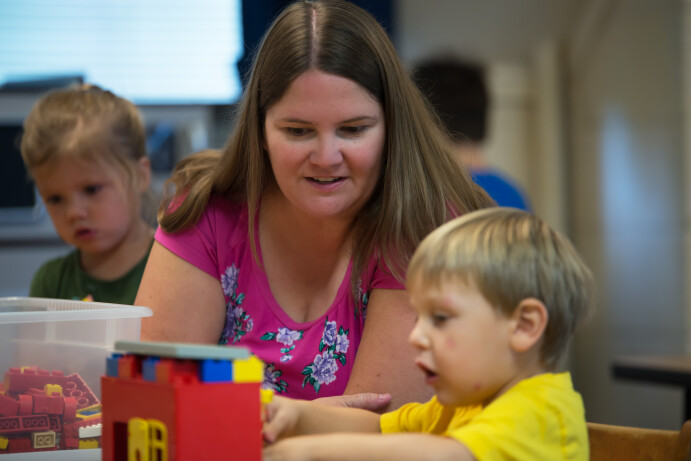 Jessica James
This is Jessica's first year in the 3-year old room. She has subbed at Opportunity Day previously and knows the program well. Jessica is married to her husband Brad and they have 3 children who are all Opportunity Day graduates--Cole (8), Brynn (8), and Brielle (6). In her spare time she enjoys reading, hiking, photography, and baking.
Hannah McDonald
Hannah is excited for another school year with the 1-year olds. Opportunity Day is like home with two of her kids being Opportunity Day grads! Hannah, her husband, and their children are happy to call Speedway home. They have two girls in elementary school and a little boy who joined Opportunity Day this year! Hannah enjoys traveling, crafting, and snuggling up with a blankie and good shows.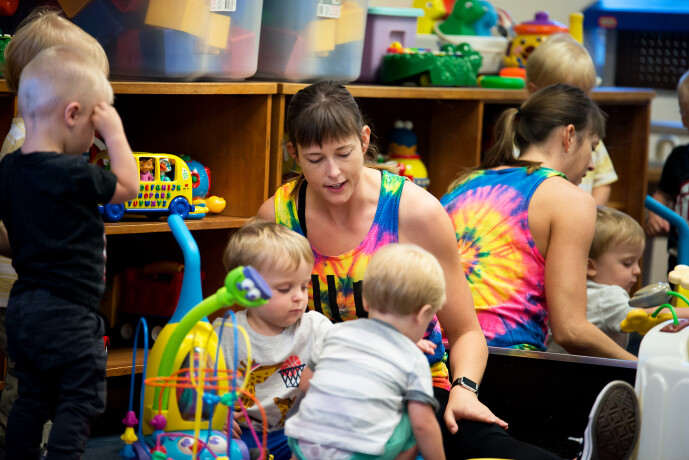 Tressa Clinkenbeard
This is Tressa's first year working with the Opportunity Day ones class! Tressa is married to her husband, Remi, and is the mother of two current Opportunity Day students--Kelsie (4) and Harvey (2). As a certified yoga teacher and avid fitness enthusiast, she spends most of her free time moving her body and encouraging others to do the same!
Heather Sturgeon
This is Heather's 3rd year at Opportunity Day. She and her husband Nick have three kids, Jada (18), Kayla (12), and McKenna (7).
Kris Jones

Kris and her husband, Steve, have a daughter, Katie, who is married to Eric. They had their first grandchild in March! Kris enjoys gardening, antiquing, and photography (of course :)!